Latest News
Now accepting applications for a limited number of new members. Click here for details.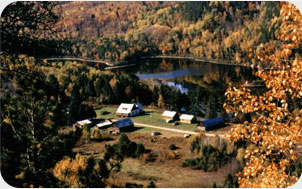 If people concentrated on the really important things in life, there'd be a shortage of fishing poles.
--Doug Larsen
The patience of the hunter is always greater than that of the prey.
--Annon.
Hunting and Fishing Club in Canada
The DuMoine River Rod and Gun Club had it's inception through the dedicated effort of a few Lake Placid business and professional people in 1918. The club is located in the Southwest portion of the Province of Quebec, on the DuMoine River, 30 miles North of the junction of the DuMoine River and the Ottawa River. The Club is easily accessible by plane or automobile and operates from ice out through October 15th.
As a member, you have access to the club headquarters, a two-story lodge with large living, dining and and kitchen areas. Other amenities include showers, toilets, a solar operated telephone, workshop, storage building and ice house. Next to the club headquarters lodge are three private full facility cabins with five remote cabins available located on various lakes available by reservation. There are hundreds of ponds and lakes to fish or hunt from, all within a short driving distance of the lodge and camps.
If you are looking for a place to fish this is one of the best places in North America! With relatively easy access to hundreds of lakes and ponds by 4WD and remote lakes accessible only by hiking, it is easy to meet your fishing needs. A Canadian fishing license is required.
If your hobby is hunting for large and small game this is it! Whether you enjoy hunting with bow, rifle, shot gun, black powder or crossbow there is a season for all. A Canadian hunting license is required.
The Club is not just for hunting and fishing. Family vacations and other recreational activities are common in the area. Bring your family together with nature with hundreds of miles of river, road and hiking.